Please read the policy page prior to enrolling in any of our courses: click here
To register you must call (845) 787-4181 or fill and submit the electronic form below, mail or email your full name, phone number and date of the class you wish to attend. Registered students are guaranteed a seat and will be informed in the unlikely event that a class must be postponed.
Tuition fee is payable in cash, credit card or money orders payable to: Damon Finch Power Sessions
Combination CPR, AED, and Basic First Aid Training for Infant, Child & Adult
Dates
TBA 9am-5pm Newburgh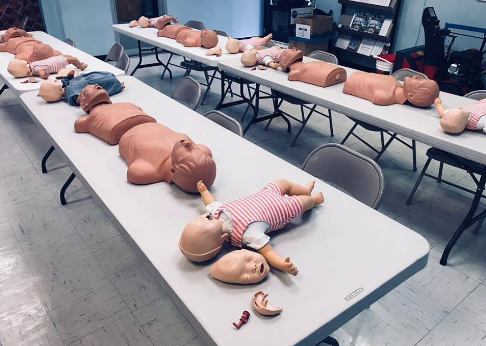 The program helps develop basic first aid knowledge, skills, and the confidence to respond. CPR, AED, and Basic First Aid combination training is an excellent choice for both the community and workplace setting, and is consistent with recommendations of the National First Aid Science Advisory Board and OSHA's best practices for first aid training programs in the workplace.

Intended Audience
Individuals who require or desire CPR, AED, and first aid knowledge and skills; including emergency response teams in business and industry, school bus drivers, adult residential care personnel, child care workers, teachers, parents, and babysitters.
Successful Completion (Certification)
* Written evaluation: Required when specified by organizational, local, or state regulation. It is recommended for designated responders with a duty or employer expectation to respond in an emergency and provide first aid care.
* Performance evaluation: All students must perform required skills competently without assistance.

Time Requirement 8 Hours
Certification Period Up to 2 years
Prerequisites None
Cost $99 or $59 with Security Guard Package 1 or 2 ($40 Savings)
Course Topics
Altered Mental Status• Amputation• Asthma• Automated External Defibrillators (AEDs)• Basic AED Operation• Basic CPR-Chest Compressions• Basic CPR-Primary Assessment• Basic CPR-Rescue Breaths• Bites and Stings• Breathing Difficulty, Shortness of Breath• Burns• Chain of Survival• Chain of Survival for Children• Chemicals in the Eye• Choking• Cold Emergencies• Control of Bleeding• CPR and AED Provider• Deciding to Help• Diabetic Emergencies• Disease Transmission and Universal Precautions• Early Defibrillation• Emergency Medical Services (EMS)• Emergency Moves• Emotional Considerations• EpiPen® Auto-Injectors• First Aid Provider• Head, Neck, or Back Injury• Heat Emergencies• Impaled Object• Impaled Object in the Eye• Injured Tooth• Internal Bleeding• Legal Considerations• Managing Shock• Metered-Dose Inhalers• Nebulizers• Nosebleed• Open Abdominal Injury• Open Chest Injury• Pain, Severe Pressure, or Discomfort In Chest• Personal Safety• Poisoning• Primary Assessment-Responsive• Primary Assessment-Unresponsive• Recognizing an Emergency• Respiratory and Circulatory Systems• Secondary Assessment• Seizure• Severe Abdominal Pain• Severe Allergic Reaction• Splinting• Stroke• Sudden Cardiac Arrest• Sudden Illness• Swollen, Painful, Deformed Limb• Tourniquets• Troubleshooting and Other Considerations• Unresponsive and Breathing- Recovery Position• Unresponsive and Not Breathing-CPR